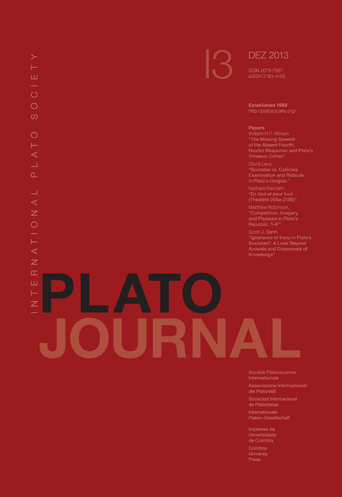 A new volume (13) of Plato Journal is now available on line at http://impactum-journals.uc.pt/platojournal
Plato Journal is now available free access on line and printed on demand by Coimbra University Press, one of the oldest european publishers.
From the Editorial
The current volume of the Plato Journal constitutes an important turning point in the history of the journal and as such is characterized by both the old and the new. What is 'old' is that here, as in the last volume, we have a collection of very strong papers displaying a wide diversity of approaches and topics. The goal of the journal continues to be what it always has been: to disseminate important new research on Plato and the Platonic tradition, just as the goal of the International Plato Society is to promote and provide an international venue for such research. But the journal has now a new look and, far from being something purely cosmetic, this new look represents a major change in the journal's profile and standing. For the first time the journal has a publisher and this not only improves the look of the journal, but also gives it the same standing as print journals in the field when it comes to citation, indexing and access. Furthermore, the journal will now be both an electronic and print journal in that the publisher will make printed copies available on demand. In short, the journal now and for the first time has the form that its content merits. This will make it more attractive and more useful both as a venue for publishing one's own work and as a source for consulting current research in the field.
For this we owe a debt of gratitude to the current president of the International Plato Society, Gabriele Cornelli, who from the very start of his mandate made it a priority to improve the standing and visibility of the journal and who found the right publisher for this end.
Francisco J. Gonzalez (Ottawa)
Table of Contents
Editorial Statement
Articles
Scott J. Senn – Ignorance or Irony in Plato's Socrates?: A Look Beyond Avowals and Disavowals of Knowledge – PDF – 77-108
Reviews
William H. F. Altman – Plato and the Post- ‑Socratic Dialogue: The Return to the Philosophy of Nature. By Charles H. Kahn – PDF – 111-114
Georgia Mouroutsou – Reading Plato is like Solving a Jigsaw Puzzle: Mary-Louise Gill's Philosophos A Discussion by Georgia Mouroutsou on Plato's Missing Dialogue – PDF – 115-125
Submission instructions
Are you interested in submitting to Plato Journal?
Please, review the About the Journal page for the journal's section policies, as well as the Author Guidelines. Authors need to register with the journal prior to submitting, or if already registered can simply log in and begin the 5 steps process.